It's that time of the year again. Time to get all cozy and snobby. With the onset of winter, comes the intense food cravings and the holiday feels. Right from commercials to banners, wherever you turn, you stumble upon some sweet and delicious reminders. Isn't it?
Winter is like a real-life notification to give your taste buds the ultimate treat. Hence, take your cosiness to a whole new level as we're sharing with you five of the delectable, worth-having and easy to make winter desserts. They're so quick to prepare that you can whip 'em up with a few ingredients that can be easily found in your pantry.
#1: Gulab Jamun and Ice-Cream
Have you ever thought about Fusion food? If you're thinking about what fusion food means, then allow me to give you better clarity. Fusion food in simple terms is the combination of ingredients either from western countries and infusing within Indian flavors. A recent survey, titled 'The Evolving Indian Palate' conducted by market research firm Ipsos, shed light on the same wherein it was found that about 79 percent of Indians cook western food in their kitchens. Well, if you belong to this percentage of people, gulab jamun and ice cream is an easy and very enjoyable option to satisfy your dessert cravings, even in winters.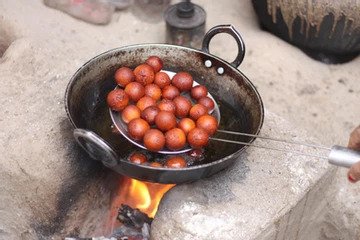 #2: Hot Chocolate
Oh, la la! Let alone this word can give you jitters and leave you mouth-watering for quite some time. Imagine sneaking under your blanket after a long day and sipping on delicious hot chocolate. Btw, do you know that hot chocolate has some amazing health benefits? Let me spill the beans now. According to an article published by the HealthLine, it is estimated that a higher intake of flavanols, including those from cocoa, can result in a lower risk of type 2 diabetes and helps in the maintenance of perfect blood sugar levels.
Ahh! If you are already a hot chocolate person but lazy enough to prepare your daily cup, throw a smile and giggle because you found 'Tiggle'. Experience happiness in the most pleasing cup of hot chocolate ever using Tiggle Hot Chocolate mix. It is easy to make and just too delicious in taste. You don't deserve to miss on it, try it yourself and you'll know.
#3: Cinnamon Rolls
It's a divine adulation to have the smell of hot and sassy cinnamon encompass the atmosphere. The aura of cinnamon takes us back in unleashing the holiday spirit within us. Give yourself a salivating experience by enduring three layers of taste in these rolls. The top layer being a rich glaze of vanilla or chocolate, the middle one consisting of caramelized sugar and finally finishing it off with a film of rich butter. This one is super quick and easy to make and it just augments the festive spirit. Also, a pro tip is to enjoy them with a topping of maple syrup. Its très délicieux.
#4: Chocolate Éclairs
When one speaks of winter, we are instantly reminded of the sweetness that it offers to us. And for sure, the wintery hues are incomplete when we don't incorporate tons of chocolate in our platter. Just imagine this in your head. How would you feel if you were offered a choux pastry paired up with a filling of hot melting chocolate exploding out of the fluffy éclair?
It would be a tad appetizing ain't it? Try this yummylicious dessert and thank us later. 😊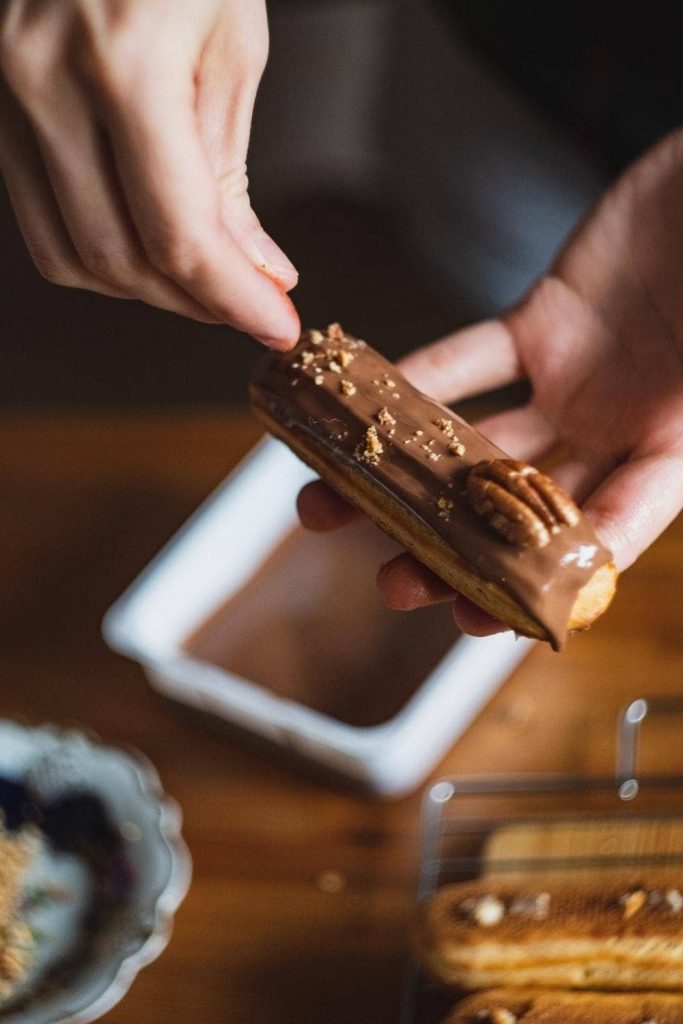 #5: Dark Chocolate Pudding
Have you ever wondered what exists today as heavenly, thick, creamy and old fashioned? The answer to all that is……. a pudding of course. This could be something that can be enjoyed all alone while cuddling up under a blanket of your own company or even if you're on a romantic date. A deadly combination of healthy yet luscious is what you can seek in this pudding. Dark chocolate which is particularly good for your heart health can be substituted even with regular chocolate (depends on your choice).
But before you jump into conclusions about it's a bit sour taste, I would guarantee you to get up and try this and you will not regret it 😊. This deadly combo is neither too rich nor too heavy, as a fact that it is a fantastic dessert to savour even on those lousy weekdays and are guaranteed to warm you up!
So, there it is! These are the top 5 warm winter desserts that are promised to make you go gaga this time of the year! Each one of them described here are super quick, easy and fun to make either alone or with your loved ones. These amazing dessert ideas are here to mark the commencement of the festive season. I am sure these decadent desserts will give you all the happiness in the world.