Summer in India can be hotter than a spicy curry 🌶️🥵 But don't sweat it, fellow chocolate lovers! This Iced Chocolate drink recipe is here to save the day (and your sanity) 🙌🍫 Because let's be real, when the sun is melting your face off, what's better than a refreshing dose of chocolatey goodness? 🤌🏻
If you are like me, who's bored of drinking the same old cold coffee, iced mocha, iced teas and fat-loaded milkshakes to beat the summer heat in India, this vegan Iced Chocolate recipe will bring a wave of newness to your summer afternoons. This Cold Chooclate is cleaner, darker and insanely delicious.
NO BS, Iced Chocolate, with only GREEN FLAGS.
Btw! The good part is that this recipe takes less than 1 minute to prepare. No hassle. So, let's go.
Ingredients required to make Iced Chocolate
150ml milk of your choice. I often use oat milk for this recipe, but you can use whichever according to your preference – whole cow milk or dairy-free milk (soy milk, coconut milk, almond milk, oat milk, etc.) if you're a vegan, on a plant-based diet or lactose intolerant.
55% Dark Iced Chocolate Mix sachet by Tiggle. It is made from clean and tasty ingredients – real chocolate flakes, cocoa, raw cane sugar and Himalayan salt. It doesn't contain vegetable oil, refined sugar or preservatives. Tiggle Iced Chocolate Mix is the perfect way to make your chocolatey, chilled and smooth glass of Iced Chocolate.
At least 4 or more ice cubes.
Equipment required to make Iced Chocolate
A blender. If you don't have an electrical blender/mixer, you can use a hand blender or shaker too.
Your favourite glass in which you would like to enjoy your Cold Chocolate. My favourite is transparent glass so my eyes can enjoy the beautiful chocolate colour and creamy texture too.
How to make Iced Chocolate?
Step 1: Grab your blender and pour in 150ml of cold milk.
Step 2: Rip open the Tiggle 55% Dark Iced Chocolate Mix sachet and empty it in the blender. Then, blend well for solid 30-40 seconds.
Step 3: Time to unleash the magic! Add a bunch of ice cubes to your glass and pour out your frosty, chocolatey, and utterly delicious iced chocolate. 🧊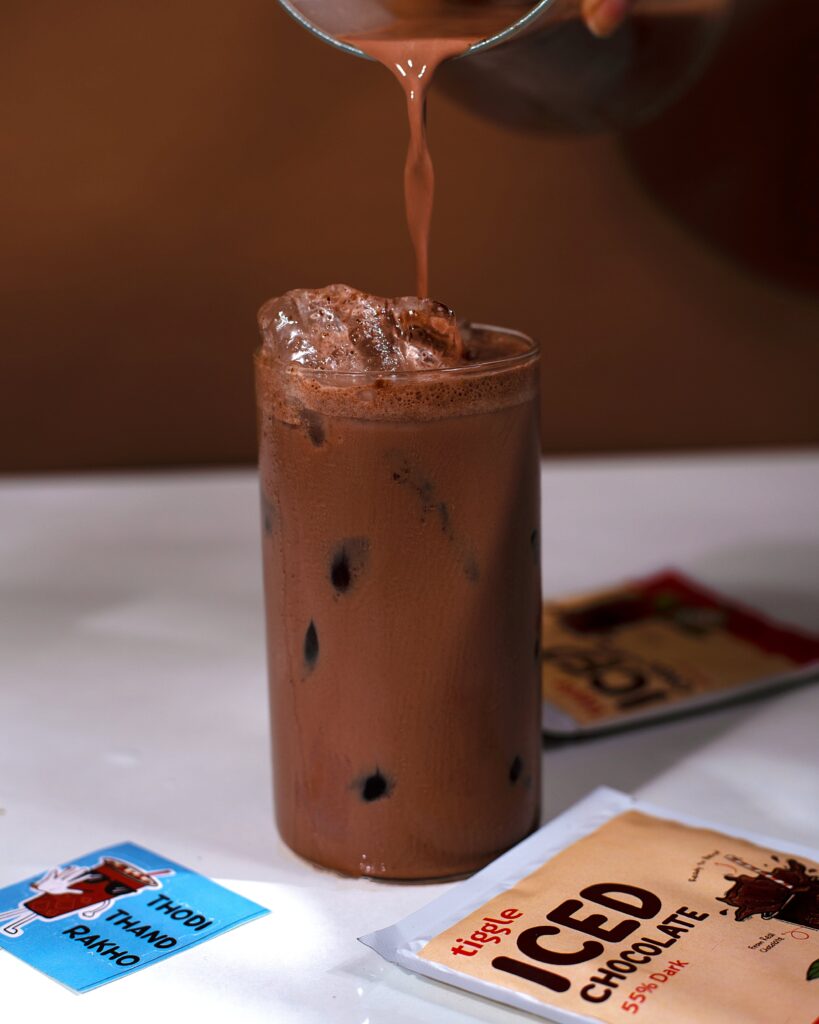 Voila! Your best friend for hot and humid days is ready. No hassle. No regrets. Just pure cold chocolate.
This Tiggle Iced Chocolate feels like a dip in a cool pool on a hot day – chilled, chocolatey, and oh-so-satisfying. The perfect summer beverage, especially in Indian summers for the entire family – adults to kids, everyone loves it.
Summary